Twenty-three-year-old Charli Alayna Brumbaugh of rural Choteau, who moved to Montana from Washington in March, is being featured by COWGIRL Magazine in what it is calling "A COWGIRL TikTok Experiment."
In a social media posting on June 28, the magazine announced that Brumbaugh "will offer a glimpse into the life of the newlywed couple, who recently moved to a ranch in Montana to pursue their Western dreams."
COWGIRL Magazine is a publication of Modern West Media Inc., based out of Cave Creek, Arizona. The magazine can be found online at www.cowgirlmagazine.com.
The name of the short-video program series will be called "Through the Eyes of Charli: A COWGIRL TikTok Experiment." The series premiered on the COWGIRL Magazine TikTok account on July 1 and will run through the month, with updates posted on @cowgirlmagazine every Monday, Wednesday and Friday.
In her first episode Charli told the audience, "I met my husband when we were 14. We were just kids. I knew right away I wanted to marry him. We live in the beautiful state of Montana and have a German Shepherd puppy. He's so full of energy, he keeps us busy. When we're not working with cattle, my husband's favorite thing to do is to go up into the mountains. I love to country swing dance."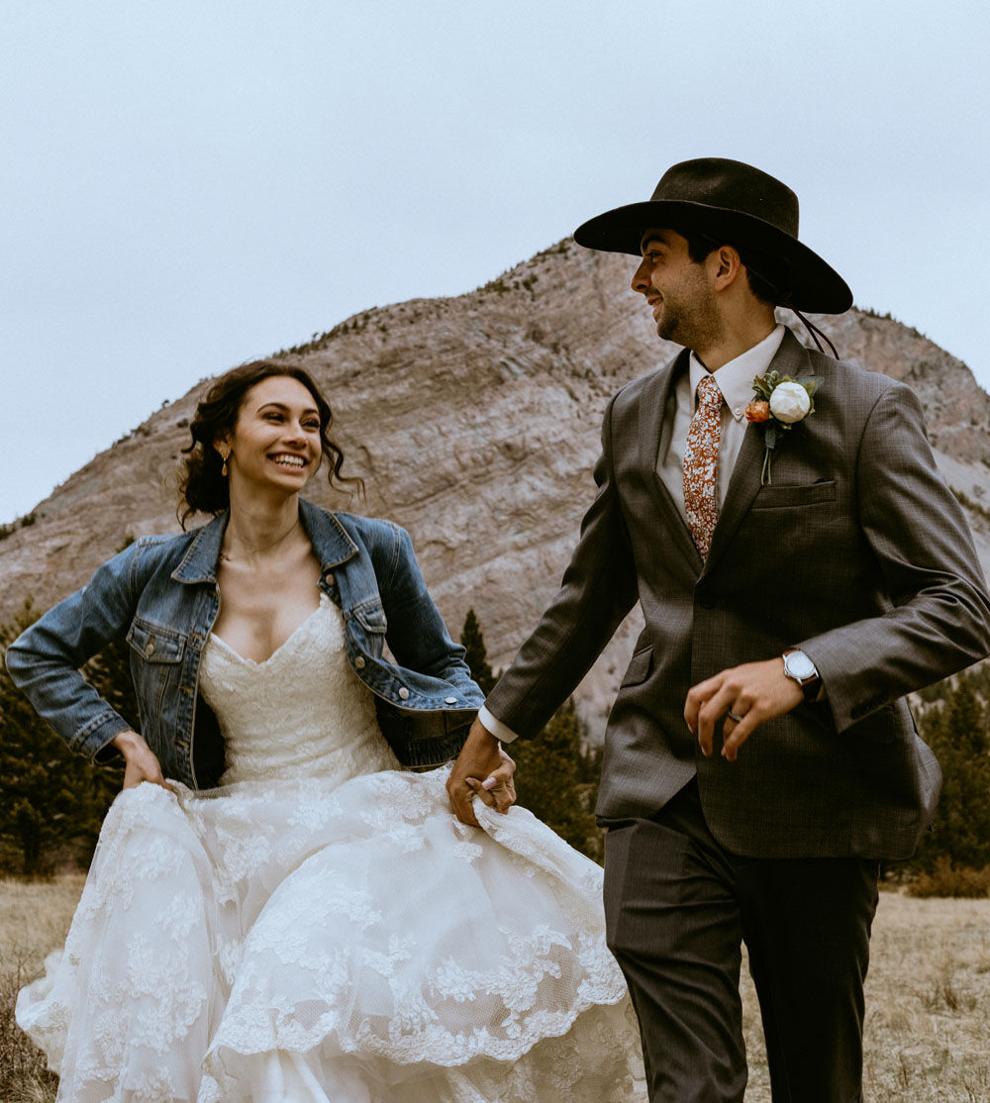 In an interview with the Acantha on July 7, Brumbaugh said her family was originally from the East Coast, but when she was young, they moved to Washington state, living between Tacoma and Puyallup.
She said she always yearned for the rural life, remembering a time when she was little that her family lived in a rural area and had chickens. "The city is just not my cup of tea," she said.
She was homeschooled and after finishing 12th grade, she attended a community college, studying computer network engineering, inspired by her father's work in the internal technology field.
She has lived in Florida and Colorado, but said something always brought her back to Washington state. Her childhood sweetheart, Rowdy Brumbaugh, is a cowboy, who has worked on ranches in Patagonia and Hawaii. After they got engaged, they began researching ranch options in Montana and this past spring, they loaded up their cars and moved to Montana, landing first in Shelby (where they got their marriage license). Rowdy worked on a ranch in the Conrad area and then they moved to Fairfield, where he worked on the Broken O Ranch for a stint, and finally have settled outside of Choteau, where he works on an area ranch the owner of which did not want to be identified in this article.
The couple got married in May in a small, chilly ceremony in the mountains and they are now adapting to their new life in rural Teton County.
Charli said she has done a lot of learning since she sat on her first horse at age 15, and so far is loving married life on a ranch. Sometimes she saddles up and works outside with Rowdy, but other times she's busy making their house a home, and finding time to expand her name recognition, influence and branding on social media as a "western content creator," predominantly using TikTok.
A former child model who worked as a social media manager, Charli is pretty savvy when it comes to self-promotion and branding. She started out uploading videos to TikTok, shot on her smart phone, just for fun before they came to Montana, but then a video she made of both of them saddling up and going out to check cows here in Montana "really blew up" and she started taking the postings more seriously.
As she gained followers, she said, she realized she could earn money as an influencer and reached out to Dan Post Boots and several other boutique companies that specialize in western wear to sponsor her videos. She also has a background in graphic design and sometimes trades products for design services.
Through this work, she began to make contacts in the online western culture community, which has built up to the offer from COWGIRL Magazine to do the TikTok series.
Charli said she contacted COWGIRL Magazine on a different matter, and the owner replied, telling her he was familiar with her videos and viewpoint and offering her the opportunity to star in the series.
"It kind of just happened by accident," she said.
The series features short, two to three-minute videos, exploring Charli and Rowdy's lives in Montana, not only with their work but also the adventures they go on with their young German Shepherd named "Bow."
She said COWGIRL Magazine has given her full editorial control for the series. Viewers can find the links on COWGIRL Magazine and also on her website, charlialayna.com.
She said her main focus right now is expressing herself creatively and showing people what someone working in the ranching industry looks like.
In the future, she would like to work with some of what she calls her "dream companies" like Wrangler and Boot Barn. "That would just be a dream come true," she said, but "even if I don't grow much more, I enjoy it and I'll continue to do it."
So far, Charli said, she and Rowdy are very happy with their new life. "I always knew I loved being in a rural place," she said, adding that she has learned to be more of a planner about purchasing groceries and has started cooking some ethnic foods (she loves sushi) that she can't just buy in Choteau.
She said she loves the hospitality and sense of community here. "I like that everybody knows each other," she said, adding that it's so nice that people — even ones she doesn't know — routinely wave at her.
When they aren't working on the ranch, Charli said, they love to do all things outdoors, including hiking and camping and Rowdy just loves being so close to the mountains.
If she has a message to get out to people, she said, it's that you don't have to grow up in the ranching business to become a part of it.
"I want to encourage people to do what they love to do, what they are passionate about and don't be afraid to take the jump," she said, adding that people would be surprised at all the rewards that come from taking a leap .
She said she is starting to do more blog posts on her website since she enjoys writing and wants to share more thoughts than she can in a two- to three-minute video.
Her interest in social media, she said, comes from both her dad — through the computer technology arena — and from her mom, who she describes as being very creative (and a baker of gourmet wedding cakes).
"I love figuring out how things work," she said.
The COWGIRL series is designed to reach two different audiences, Charli said: people who want to work in the western industry but haven't taken the plunge, and, secondly, people who are working and living the western lifestyle and who want to see positive advocates for the ranching industry.
She said metrics show her posts are reaching people far beyond the common TikTok users who are predominantly ages 16 to 27. She said people can post responses to the videos and she enjoys interacting with them as she replies to their questions and comments.
.